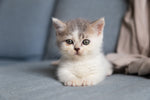 So, you just got a kitten...
By Athena Alexander 
Whether it is your first, second, or tenth kitten, there are staple supplies you need to ensure that your pet has a long, healthy, and comfortable life! 
Organic Cat Food: 
It is very important to give your kitten a mixture of wet and dry food. A kitten's teeth are very small and are still growing, so it is important to give them a little wet food along with dry food, so they get as much nutrition as possible. Your cat's food should be based on the age and type of kitten that you have. Food can be found online or in stores based on your personal preference. Smalls is a highly rated, organic food line for kittens. This cat food is human-grade, organic, and arrives at your door! To begin, you fill out a quick survey about your cat, and Smalls creates cat food specifically for your kitten! 
Litter Box: 
After the kitties eat the food, you must make sure they have somewhere to use the bathroom. Your next necessary product is a litter box. Believe it or not, there are many kinds of litter boxes to fit your aesthetic, availability, and price range. There are hidden litter boxes that are disguised as plants, organizers, or really anything that is not a litter box. If you are living in a smaller area, it is nice to have a hidden litter box to make the space look clean and organized. There are self-cleaning litter boxes that may be a bit pricey but help a cat-owner out if they have a busy schedule. The self-cleaning feature will sort out the dirty litter and give your cat a fresh start without you having to scoop anything! There are also plain litter boxes that are cost-efficient and get the job done! Any of these litter boxes can be found at a local pet store, on Amazon, or from retailers online! A top-rated litter box is the Jumbo Hooded Cat Pan. This litter box accommodates a few smaller house cats and includes a hood so that your cat has a little privacy. This litter box is available at chewy.com! 
Scent Away's Cat Litter Deodorizer: 
Litter can be a pet owner's worst nightmare. Whether it's for a cat, hamster, or bird, the litter, pallets, or paper shavings could have a lasting odor! The last thing you want is for your house to smell like pet urine all day. A go-to product that is necessary for your pet is a litter deodorizer. Scent Away is a leading product in pet deodorizers. You can purchase this product on Chewy, Amazon, or on the Scent Away website itself! This product is all-natural and fragrance-free. The product works by absorbing moisture and eliminating the odor within the molecules. Scent Away also comes in different sizes to cater to your pet's needs. There are single bottles, packs of 3, and 25-pound gallons for purchase. In addition to this array of sizes, there is a single purchase option or a subscription that will save you time and money! 
Toys: 
Finally, treat your kitten with some toys! Kittens are very active and love to play around. If they do not have strings, plush mice, feathers, or lasers, they may start to attack your couch, hanging curtains, or maybe even you! Picking up a few toys will entertain your kitten and keep them from destroying your furniture. A top-rated toy that will entertain you as well as your kitten is a laser pointer. These little toys are very inexpensive and will keep your kitten very active. Make sure to give your kitten a treat when you are done playing to communicate that they did a good job playing! Toys such as a laser pointer can be found on Amazon or at any online pet store! 
Buying items for your pet just became easier. The best way to get food, products, and toys is online! Whether from Amazon or an online pet store such as Chewy.com, your pet's needs are just a click away from being fulfilled.